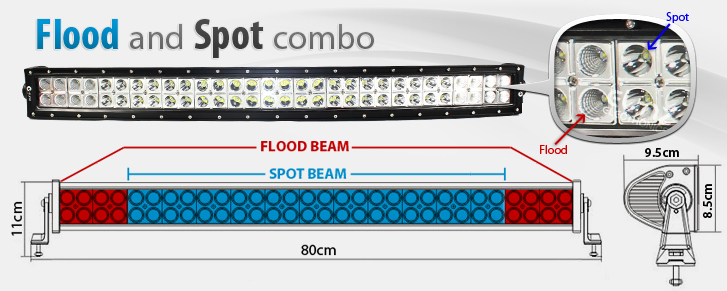 50″ Off Road Curved LED light bar mimics the radius contour of most windshields and front bumpers found on trucks and SUVs. Curved design with narrow spot 8 degree beam pattern LED also focuses on long range distances with a wider light dispersion illuminating everything in and around the forward path vechicle. 288 Watt – 96 x 3 Watt high power CREE LEDs in a double row array.
Spot Light:
The spotlight is the lamp that makes use of condenser lens or reflectors to give out light. The point light is the simpler one of reflector lamp, which is convenient for focusing on sepecific area in the scene, with its high illuminance and narrow brightness range.
Flood Light:
The floodlight is a kind of point light source that can illuminate all directions evenly. Its brightness range can be adujusted conveniently, showing as a regular octahedron in the scene.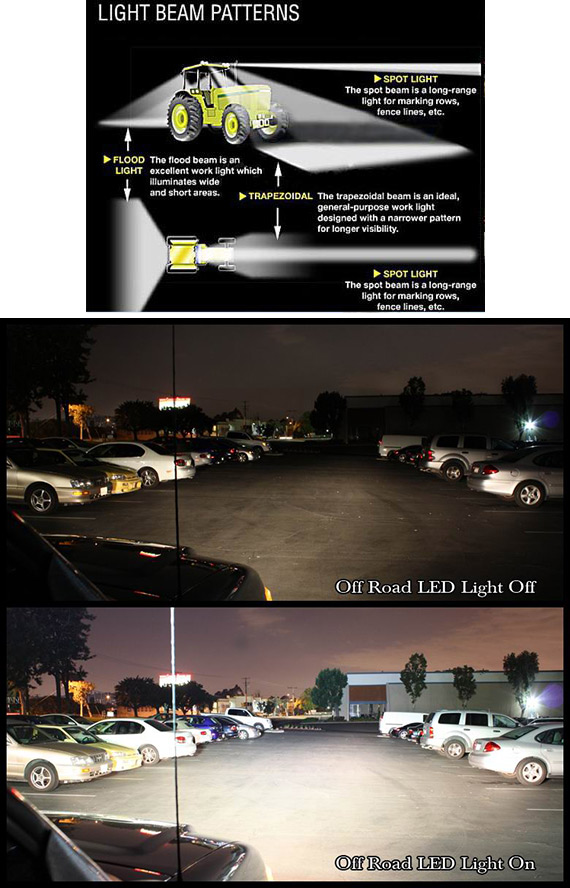 Features
Curved

design, provides super broad viewing area
Made of high quality Diecast Aluminum Housing
PMMA (Polymethylmethacrylate) Lens, with high light transmission
High power CREE LED
The appearance of fine craft and easy to install brackets
Latest CREE LED technology
Different light pattern from flood beam and spot beam
Light perception: a softer light to prevent glare
Water and dust resistant
Shock and vibration resistant
Supplying superior light output and will not drain your battery
Application:

Offroad vehicle
ATVs
SUV
Truck
Engineering vehicles (excavator, treedozer, road roller, bulldozer, crane   and mining truck…etc
Special vehicle (fire engine, rescue vehicle, communication vehicle,   military command vehicle)
Forklift
Train
Boat
and more

2 year warranty
FREE Wiring Kit included
Specifications
Body Material: Aluminium heat sink
Lens Material: PMMA tempered glass
Housing Material: Diecast aluminium
Mounting Bracket: Stainless mounting hardware
Size: 50 inch
LED Power: 288W up to 23040Lm
Intensity: 96pcs*3w CREE high intensity LEDs
Beam: FLOOD & SPOT COMBO (20x Flood + 56x Spot + 20x Flood)
Operating Voltage: 9-32V DC
Waterproff rate: IP 68
Life Time: 50000 hours+
Color Temperature: 6000k-6500k
Mounting Bracket: Adjustable trunnion bracket mount
Size (L x W x H): 1273mm (W) x 125mm (H) x 99mm (D)
Weight: 7.5kg (Per Unit Included The Box)
Body Color: Black
Wiring Kit

14V 40A
Main cable: 2*2mm^2 * 3 meter
Control cable: 2 meter
Switch cable: 0.9 meter
Total Length: 5.9 meter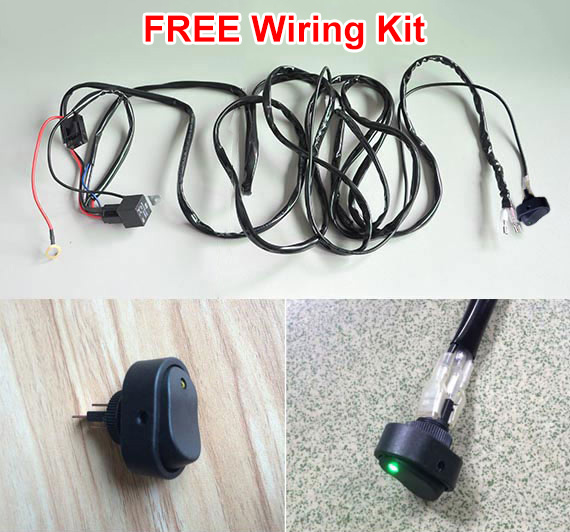 Find us Instore Shop1/5 Farrall Road Midvale WA or call 08 92740661